An update from the Thai government regarding Thailand's #COVID19 situation, reporting from the Center for COVID-19 Situation Administration (CCSA) Highlights;
News of relaxed measures
As COVID-19 is now entering its endemic phase in Thailand, The Ministry of Public Health has issued a new set of recommendations on public health measures for "high-risk contacts" to self-monitor for 10 days without having to quarantine.
The endemic designation does not mean the disease is no longer dangerous. The government will continue to ensure the healthcare system remains capable of handling emergency situation.
The reopening of nightclubs, bars, and karaoke venues has been approved.
The use of the emergency Decree on Public Administration in Emergency Situation will be extended for another two months from 1 June to 31 July with all the necessary public health measures to stem the spread of COVID-19 remaining in place until such time that COVID enters into endemic phase as determined by the competent public health authorities.
Adjustment on provinces zoning
Changes to the zoning of the provinces will go into effect on 1 June 2022
The number of provinces designated "yellow" or "High Surveillance" zones will decline from 65 to 46
The number of provinces designated "green" or "Surveillance" zones will go up to 14.
The number of provinces designated "blue" or "Pilot Tourism" zones will go up from 12 to 17, while 12 other provinces.
The "Pilot Tourism" zones will be encouraged to implement prevention measures similar to those adopted in "Surveillance" zones.
Changes in requirements for entering Thailand
The entry requirements for travelers coming to Thailand will be adjusted beginning on 1 June 2022 including the registration for Thailand Pass, which has been made simpler and more convenient.
As of 1 June 2022, foreign travelers coming to Thailand will only need to provide the following information:

COVID-19 vaccination certificates or COVID-19 test results;
a minimum of 10,000 USD equivalent of travel insurance that covers medical expenses related to COVID-19; and
copy of a valid passport.

The Thailand Pass QR code will be auto-generated immediately after registration. Airlines are required to pre-check for Thailand Pass QR code prior to issuing boarding pass to travelers coming to Thailand. Once they arrive in Thailand, travelers are required to go through health screening process at the airport.

Thailand Pass Progress and Statistics
Starting June 1, Thai nationals will no longer be required to register for Thailand Pass. Thailand Pass will next month function as a pre-arrival registration, not an approval system.
Foreign visitors need to make sure they upload correct documents and carry them in case they are required to show the documents for verification.
After the registration on Thailand Pass, a QR code will be auto-generated and issued instantly. Foreign travelers need to provide the QR code received to officers on arrival.
Until the revised Thailand Pass measure takes effect on 1 June 2022, Thais and foreign visitors are still required to register with Thailand Pass and seek approval from the system.
Travelers coming to Thailand before the beginning of June still need to adhere to the same entry requirements as announced earlier. Under the current mandatory measure, Unvaccinated and partially travelers who wish not to be quarantined must undergo an RT-PCR test before departure.
The adjusted entry requirements for travelers coming to Thailand — namely proof of vaccination and travel insurance of at least 10,000 USD, and RT-PCR test for those not fully vaccinated — and are in line with public health measures and practices in the Southeast Asian region.
A case in point is Singapore where fully vaccinated travelers need to:
proof of vaccination;
arrival card; and
the installation of Trace Together application prior to arriving in Singapore.
Another country is Malaysia where non-fully vaccinated travelers are required to undergo RT-PCR test or RTK- Antigen within 48 hours prior to traveling to Malaysia, and fully vaccinated travelers need to install the MySejahtera application and verify their digital COVID 19 vaccine certificates on MySafeTravel. They will then be issued with a Digital Traveler's Card on the MySajehtera application.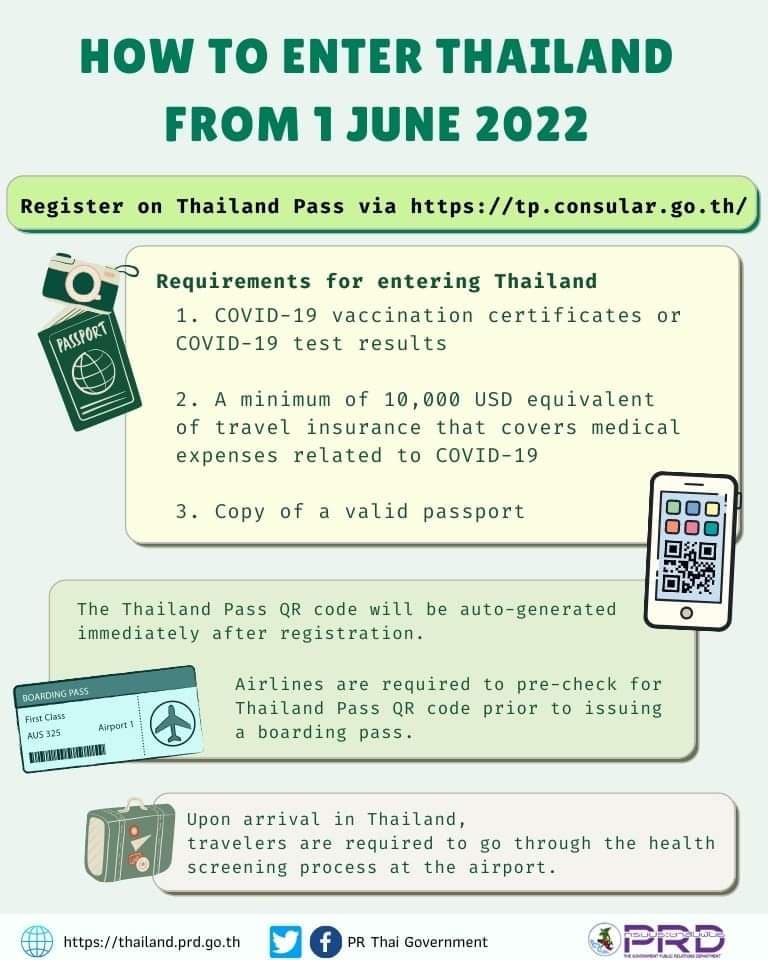 With these recent changes do you think the Thailand Pass will be removed anytime soon?