As the COVID-19 pandemic continues to affect travel around the world, Thailand has recently made a significant change to its requirements for travelers entering the country. According to the latest Notice to Airmen (Notam), unvaccinated travelers are now allowed to enter Thailand, provided they are willing to undergo a COVID-19 test upon arrival. This marks a significant change from previous requirements, which prohibited unvaccinated travelers from entering the country altogether.
Despite this change, there are still a number of requirements that travelers to Thailand must meet in order to enter the country. One of the main requirements is proof of vaccination or recovery from COVID-19. All passengers 18 years of age or older must provide evidence that they have received a full course of vaccination or that they have recovered from COVID-19 within the past 180 days (six months). Passengers who are unable to provide proof of vaccination must have a letter from a doctor stating the reason for their inability to be vaccinated.
In addition to vaccination or recovery, travelers from countries that have requirements in place that may prevent them from returning home due to COVID-19 must also have health insurance covering at least $10,000 of treatment for COVID-19 for their itinerary in Thailand, plus an additional seven days. This requirement is in place to ensure that travelers have access to necessary medical care while in Thailand.
There are a few exceptions to these requirements. Holders of official and diplomat passports, as well as United Nations Laissez-passer, are exempt from the health insurance requirement. Thai passport holders and transit/transfer passengers are also exempt from both the vaccination check and the health insurance requirement.
Airlines are responsible for checking that travelers have the necessary documents to meet these requirements. If a passenger fails to provide the necessary documentation, they may be subjected to a COVID-19 test upon arrival in Thailand. It is important for travelers to have these documents with them when traveling to avoid any delays or difficulties.
In addition to the vaccination and health insurance requirements, airlines are also required to adhere to related regulations and guidance, such as requiring passengers to wear masks at all times except during meals or in emergency situations. Any passenger displaying symptoms of COVID-19 during travel should also be recommended to get tested upon arrival in Thailand.
By following these requirements and guidelines, travelers can help to protect the health and safety of themselves and others while traveling to Thailand. It is important to stay up to date on the latest requirements and recommendations for travel to Thailand, as they may change over time.
Thailand COVID-19 Entry Insurance
As part of the new COVID-19 requirements for inbound travel to Thailand, it is important to have health insurance coverage for the duration of your trip depending on your country. To make it easy for you to find the right insurance plan, we've provided a comparison tool below. Make sure you have the right insurance coverage before your trip to Thailand.
Recent NOTAM issued by the CAAT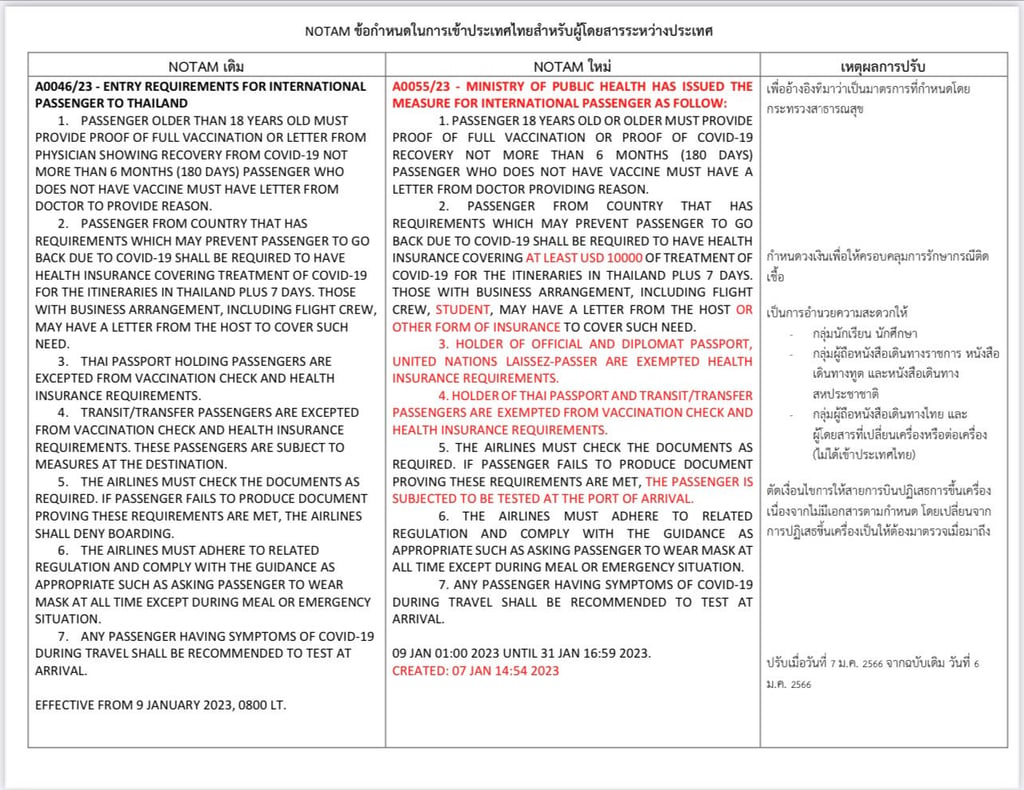 Recent Government PR Announcement Related to Travel